Funny Mark Interview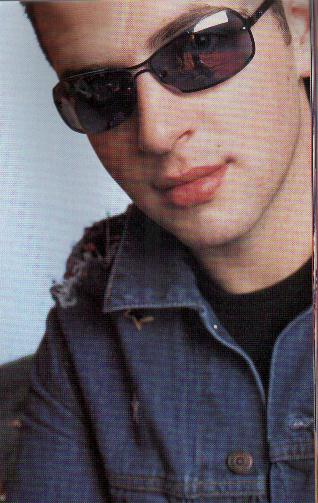 WOULD U RATHER BE A BEE OR A WASP?
do both of them die after stinging? i think i'd rather be a bee because people like bees more than wasps. don't ask me why i mean what's the point in wasps? Billie sings about bees, so i'll go for that.

HAVE YOU EVER LOVED ANYONE WHO DIDN'T LOVE YOU BACK?
i really, really used to love Chloe from home and away and she couldn't get a chance to love me back hehe.

DO U TIDY UP WHEN YOU HAVE VISITORS ROUND?
it depends on what mood i'm in. most of the time i scan round the house to make sure there are no pancakes sticking to the ceiling

WHY DOES YOUR NOSE RUN?
thats a tough one, (turns to band for help,)
bryan why does your nose run? Er to keep up with your feet

WHO IS THE SEXIEST WOMAN ON THE PLANET?
(HE REALLY WANTED TO SAY ME HERE BUT INSTEAD HE SAID THIS)
mariah carey. lately her image has become even more sexier but that's fine with me

DO U KNOW ANYONE CALLED BARBARA?
there's a singer in ireland called barbara ellis and a girl who used to babysite me called barbara kennedy. she used to sing for me but i never fancied her i don't go for older women

WHATS THE PERVIEST ITEM OF CLOTHING YOU OWN?
i don't have a six pack, and so i don't have any revealing clothing. its probably just a pair of multi coloured socks

DO U KNOW WHERE ITS AT?
i can know where its at sometimes. i wouldn't be as slow as some of the lads in the band but i know where we are and where its at.

WHEN WAS THE LAST TIME YOU FELL OVER?
The last time i fell over was when i was at home in Sligo and i was walking into my bedroom. i tripped and whacked my head of the mattress it could've been dangerous!

(oh bless mark he's 2 cute u can just imagine him falling over lol)

ISN'T WESTLIFE A BIT OF A BORING NAME?
we're happy to be called westlife the name doesn't mean that much but obviously if we were called smelly socks- no offence to any band with that name- it would be a different story.
Typed and sent by Caroline from an old mag




Copyright © 2002,

Westlife Western. All rights reserved.