PROFILE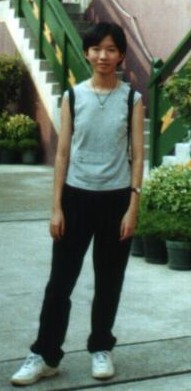 Full name : The coolest girl. Lol, just kidding. My full name is Levina Wibowo.
Nick name : Vina, Levi, Levin, Levina, Miaw Miaw, UWO (Unidentified Walking Object) I don't know why some of my friends call me with this nickname. *curious look* Am I an invisible walker or something? Err..
Birthdate : Desember 3, 1985.
Birthplace : Miaw Miaw Land. *oops* Wrong place. No, my birthplace was in a planet named earth. Most exactly in a city named Bandung.


Eyes colour : Brown.
Hair colour : Black brown.
Height : 5'3 last time I measured.
Hobbies : Singing!!! Wherever I am, I must be sing. It's good for you! The other hobbies are listening to the music, reading (not a school subject of course), making a poem or fictions, and at last chatting online!!
Dreams : Let me think first! I wanted to be a singer. Well, actually... now I am still want to be a singer. Can I?
School : Grade 11 in SMU St. Aloysius. Watta hard school...

FAVOURITE - ALL ABOUT :
Colour : Definitely GREEN!!!
Music : Pop and alternative. But that doesn't mean that I only like that kind of music. I like to listen rock, R&B, or hip-hop altough sometimes...
Male singer : Aaron Carter.
Female singer : Mandy Moore.
Boyband : Westlife and F4. But I like the others too. I like Mytown songs, a1, Backstreet Boys, N *Sync, BBMak, Five, etc.
Girlband : M2M. Are they girlband? I don't know actually 'coz they play instruments. Their music is easy listening and I like it. And they're nice.
Actor : Kevin Zegers. But I am a fan of Ivan Sergei now, hehe..
Actress : Katie Holmes.
Movie : Titanic, Ada Apa Dengan Cinta?, Air Bud (1,2,3).
TV Series: Meteor Garden, John Woo's Once A Thief.
Car : Jaguar. I've ever scanned the pics, but I forget where I put that diskette.

Food : French fries. I really like it.
Drink : Definitely melon juice!!! But if I get bored with this, I will choose chocolate milk shake.
Ice cream : Vanila with choco chips. But if I don't find it, I'll choose chocolate.
Subject : It was Computer. But since the day it has been a difficlut subject, I move to English.
Sport : Basket!!! I like soccer to anyway.
Comic : It's a lot to choose. I like to read Detective Conan, Time Limit, Detective Kindaichi, Si Cerdik Michael.
Novel : Fear Street, Harry Potter.
Music VCD : Take That - The Greatest Hits, Westlife - The Westlife Story, Boyzone - Said And Done.
Video clip : Take That - Never Forget, Westlife - Uptown Girl.
Animal : Cat, koala.
Song : If I type right here, it's gonna be a long list. So, if you want to see the list, you can click here.
Site : Same thing. I have a lot of favourite site. You can see right here.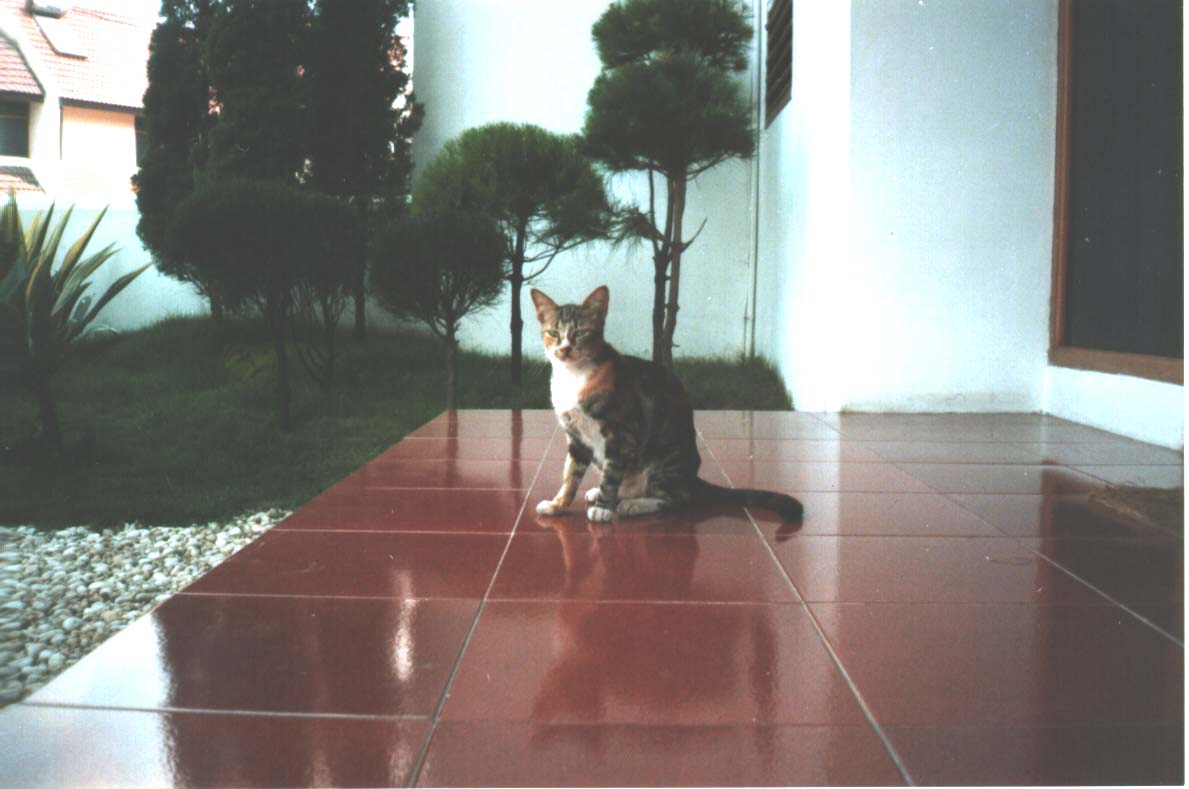 It was my cat. I don't know where she is now. But I really miss her. She's a female cat, but I named her Michael. Maybe it's inspirated by Si Cerdik Michael comic so I named her Michael. She's really nice. She liked to wait for my house by sleeping in front of the door.
And then... I think she's unique coz she has six colours : white, black, brown, light brown, gray, cream. And I like, coz when I called ck..ck..ck.. she will come to me happyly. Her husband did the same thing too, hehehe... But the other cats just see without do anything. Grr...

Copyright © 2001-2002, Bizy Garink. All rights reserved.