W:W! WESTLIFE TOUR SCHEDULE
You can catch all tour schedules of Westlife from February 2002 to June 2003. Thanks to all source for the schedule.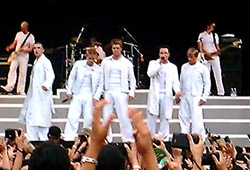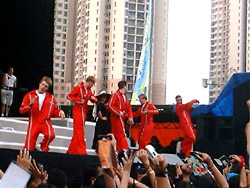 February 2002
2 MTV Asia Awards
2 Brits TV
9 CDUK
11 GMTV
14 Pepsi chart
16 Diggit
16 SMTV
16 Radio 1 Jamie Theakston
17 CBBC Smile
21 Pepsi chart
March 2002
2 Danish Music Awards 2002 Denmark
4 Meteor Ireland Music Awards Dublin, Ireland
11 'World Of Our Own' single released Australia
15 Caracas Pop Festival II Venezuela
28 Blue Peter
April 2002
5 Copenhagen, Forum
7 Stockholm, Globe
9 Oberhausen, Arena
11 Stuttgart, Schleyerhalle
12 Munich, Olympiahalle
13 Frankfurt, Festhalle
15 Berlin, Max-Schmeling-Halle
19 Belfast, Odyssey Arena
20 Belfast, Odyssey Arena
25 Newcastle, Telewest Arena
26 Newcastle, Telewest Arena
May 2002
1 Sheffield, Arena
2 Sheffield, Arena
8 Glasgow, SECC
9 Glasgow, SECC
14 Manchester, Evening News Arena
15 Manchester, Evening News Arena
21 Birmingham, NEC
22 Birmingham, NEC
28 London, Earls Court
29 London, Earls Court
June 2002
3 Belfast, Odyssey Arena
4 Belfast, Odyssey Arena
20 Belfast, Odyssey Arena
21 Belfast, Odyssey Arena
July 2002 (schedule from Westlife newsletter)
6 BRMB Party In The Park, Birmingham 2pm
6 Mardis Gras at Hackney Marshes, London 7pm
7 Party in the Park, London
13 EMAP Roadshow, Sheffield
14 EMAP Roadshow, Leeds
August 2002
19 starting tour in America
30 performance in CA
31 performance in Blockbuster Teen Fest 2002, CA
(schedule from August to March 2003 sent by Valerie)
August 2002: The lads get a 3-week holiday and will jet home to
Ireland or off to tropical locataions. Then they fly to America for a
month of meetings and promotions on US TV shows including MTV

(Kerry's already said she feels sick, but 3 months is usually the
worst time for morning sickness)

September 2002:
The lads fly back to Britain to record extra tracks for the Greatest
Hits album and begin UK promotion.

(Kerry is now 4 months pregnant and will be feeling quite emotional
at this stage)

October 2002: The lads get a bit of time off. Shane's going out his
brother Liam's wedding in Sligo and Bryan and Kerry are expected to
attend.

(By now Kerry will be 5 months pregnant and her morning sickness
should have stopped)

November 2002: The lads have anew single out! It's a bonus track from
their Greatest Hits album which also hits the shops this month.

(Kerry will be 6 months' pregnant and is probably feeling more tired
than usual by now)

December 2002: Westlife start recording their 5th studio album in a
London studio, but jet home for Christmas and New Year with their
families.

(Kerry will be 7 months' pregnant when the festive season arrives -
so double helpings of turkey for her!)

January 2003: The guys are scheduled to finish recording all teh
tracks for their new album and it won't be long before promotion for
it begins.

(Kerry will be 8 months' pregnant and resting at home)

February 2003: With the album expected to be released in April, Bryan
might be able to spend a well-timed few weeks with his wife before
the birth.

(Kerry's due to give birth to Molly's new brother or sister at the
end of this month!)
(note : a source said that Westlife will be in Canada too this month)

March 2003: The lads embark on a hectic whirl of promotion for the
first singles released from the new album. Expect to see their gorge
faces on loads of TV shows!

(Kerry will be spending all her time with the tiny new baby.Aww!....)

...but meanwhile, Bryan will be busy travelling up and down the UK
and maybe even over to Europe to promote the Westlife album.
(schedule from Westlife newsletter)
WESTLIFE UNBREAKABLE: THE GREATEST HITS 2003

May 2003
27 Birmingham NEC : 0870 909 4133

June 2003
3 Wembley Arena : 0870 733 1045
10 Manchester Evening News Arena : 0161 930 8000
17 Belfast (sale on September 28th)
18 Belfast (sale on September 28th)

July 2003
1 Newcastle Telewest Arena : 0870 707 8000
8 Glasgow SECC
9 Glasgow SECC : 0870 040 6050
10 Glasgow SECC (sale on September 19th)
18 Sheffield Arena : 0114 256 5656

Tickets: £25, (£27.50 London) – max 6pp on sale Friday 6 September at 9.00am
Show Time: 7.30pm

24 HR WESTLIFE TICKET HOTLINE: 0870 735 5000
www.bookingsdirect.com

Copyright © 2002,

Westlife Western. All rights reserved.